We carriers a wide variety of products, which includes , Casual Shoes, Farrier Tools, Hoof Rasps and Horseshoes Nails. All of our Farrier Tools are produced in Iowa. We have all the basic farrier tools needed for a beginner or our Viking Farrier Line of hand tools for the professional.
Nordic Forge Horseshoes are available in Original, D-Lux, Lite Wide and Lite Rim styles. All of our shoes offer burr free nail holes, so that that back punch is avoided. Our shoes are drop forged from low carbon raw material for easier cold shoeing. They have crop, well defined creases and nail holes to provide assurance that the nail head and neck lock tight. All our horseshoes come in 15 pair boxes.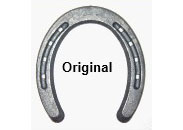 The original is Nordic's all time classic refiend to maintain its essential features of light in weight and friendly shape to provide easy, fast alteration for font or hind hoof. Our original Horseshoes have a dependable designed trusted by farriers for over 30 years!
Also Available Nordic's Heeled and Toe & Heeled horseshoes!
D-Lux:This type are Nordic's evolution to provide farriers and hoofs with a great, smart alternative the features of this shoe
that offer everything you could want are:
* Extra nail holes are positioned for greated versatility of nail placement;
*Well defined seated out sole surface;
*Rolled toe to ease break over and reduce hoof stress.
000 & 00 are punched for a RN 4.5.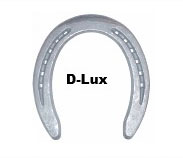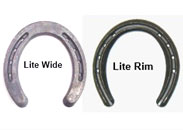 Lite Wide:As the name indicates, is Nordic's answer for those farriers wanting to provide extra support and protection to the hooves.
Lite Rim:Our Lite Rim horseshoes feature crisp and well defined crease and nail holes. They feature outside rim traction with rolled toe to ease breakover. Popular choice for cutting, roping, barrel racing, pleasure, polo or jumping.
Featured Products
Viking Farrier Nippers
Our Viking Farrier Nippers are available in several sizes.
-15" Nipper(15P & 15SP)
-14" Race Track Nipper(14RACEP & 14RACESP)
-14" Regular Nipper(14REGP & 14REGSP)
-12" Nipper(12P & 12SP)
-12" Regular Nipper(12REGP & 12REGSP)
-10" Mini Nipper(10P & 10SP)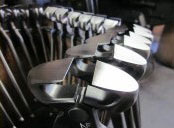 Our Nippers are forged from high quality tool steel, machined to precise tolerances and heat treated for wear resistance. Offers a very Sharp Cut.
They are available either completely polished or semi-polished.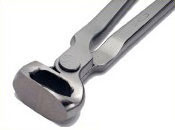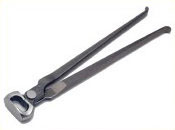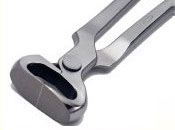 Viking Farrier Tools
Nippers
Our Viking Farrier Nippers are all forged from High Quality Tool Steel, Machined to precise tolerances and heat treated for wear resistance. They offer a very sharp cut.
The Viking Nippers are available in a 15 inch, 14 inch-Race Track and Regular, 12 inch and 12" Regular. Also available is our 10 inch Mini Nipper.
All of these Nippers are available either completely polished or semi-polished.
Designed for trimming horses hoof ONLY! Do not use to cut wire or nails!
Clinchers
Our Viking Clinchers are available in both a Straight Jaw and Curved Jaw version. The 116SP and 116CP are completely polished for the professional appearance while providing a very smooth feel. The 116SSP and 116CSP feature a fully polished head white the handles have been lightly sanded to remove any sharp burrs and provides a cost savings advantage. All the clinchers are forged from high quality tool steel, also are precision machine, and heat treated for strength and durability. The curved Jaw clinchers are introduced due to farrier demand (they feature a slightly curved bottom jaw).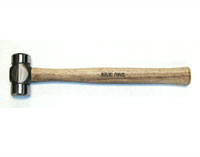 Hammers
All of our Viking Hammers feature a new Arkansas hickory Burnt and buffed handle. The hammer heads are forged from high quality tool steel, machined to exacting tolerances, and then carefully heatreated. After heat treat, they heads undergo a unique process that fives them a superior finish while rounding the chamfer to help prevent chipping. Nordic Forge offers a 1-1/2 Ib,. a 2 Ib. and a 1 Ib. 10 oz. Rounding Hammer along with a clipping Hammer.。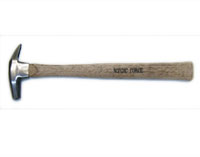 Pritchels
Precision machined from S7 tool steel, then heat treated and hand polished to a superior finish. This tool is designed for hot work. Always wear safety goggles when using striking tools. Overall length is 10-1/2 inches. The Angled pritchel was designed to back punch shoes, you can move the pitch hole in or out. If you turn the straight side to the outside of the shoe, the pitch will move in, turn the straight side to the inside of the shoes the pitch will move out.
More Information of our products, please visit the website of Nordic Forge Inc. USA: http://www.nordicforgeinc.com/